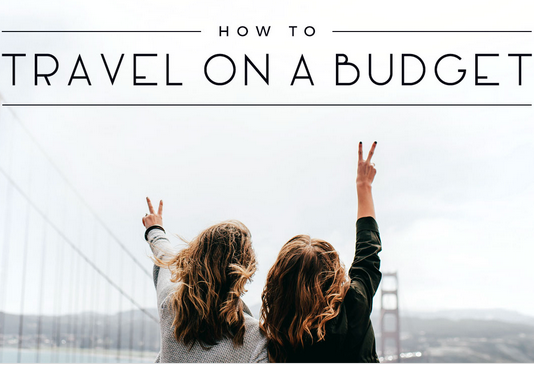 Budget Travel Experience
15:14 - 15/06/2019
Below is a sharing on budget travel throunght out Vietnam byWill Hatton via www.thebrokebackpacker.com
4 Weeks: Vietnam's Highlights
This itinerary can be complete in either direction, but I will discuss from North to South. Start your trip in the beautiful city of Hanoi. Make a side trip to the countryside of Sapa, where you can ride your motorcycle through the hills and explore waterfalls. Then arrange a trip to Halong Bay, a highlight on any Vietnam trip.
Head south, stopping in the quaint town of Hue, to Hoi An, where you can get an affordable, good quality suit made. Then go to Nha Trang to let loose, get a bit wild and have some fun on the water. A popular water sports area with the likes of windsurfing, paragliding and jet skiing on offer; there's enough adrenaline here to keep even the most adventurous happy.
Head to Mue Ne and Dalat, then to Saigon, the starting point for most backpackers travelling Vietnam. Saigon is a crazy bustling city. You can also go explore the Mekong River, a paradise for wildlife.
Places to Visit in Vietnam
Below we've explained each destination on the itinerary in much more detail, including what to do, see, and where to stay in each place.
One of my favourite cities in all of Asia, Hanoi is a beautiful combination of Old meets Modern: a gateway to the incredible mountains and scenery to the North and the warm beaches and bustling cities to the south. Hanoi is worth spending at least a couple days exploring, on foot or by bicycle.
I recommend staying at the fantastic Central Hanoi Backpackers Hostel. The dorms are comfortable and at only $5 a night, including breakfast, internet and free beer, they certainly know how to cater to those backpacking Vietnam.
In Hanoi, it is definitely worth visiting the War Museum, easily spotted it has a great collection of weaponry marking the entrance. It costs just $3 to get in and it's a good introduction to exploring Vietnam's war-torn past.
Stop by the Temple of Literature; Founded in 1070 it was Vietnam's first university where the rich and incredibly brainy attended. Even if you're not into the history behind it, it's handcrafted architecture is pretty breathtaking. If you aren't templed out, definitely head over to the 'old section' of the city and stop by Bach Ma Temple. The oldest temple in the city. If you only see one temple in Hanoi, make it this one.
Hoan Kiem Lake, also known as the 'Lake of the Restored Sword'. Legend goes that once the Emperor defeated the Chinese from Hanoi, a giant golden turtle grabbed the sword and disappeared into the lake to restore it to its rightful owners. All traffic here is banned between 7 pm – midnight every Friday to Sunday turning this beautiful place into a meeting place for friends, giving it an almost funfair vibe. If you're an early bird and like morning exercise, 6 am Thai Chi takes place every morning.
Additional reading – Check out Hanoi's 5 best neighborhoods to stay in!
Backpacking Sapa
An explorers paradise, you are likely to arrive here early in the morning. Check into the Enjoy Sapa Hostel, leave your bags here, and go in search of Motorbikes for hire! It's around $10 per day to hire a motorbike, cheap for the freedom to explore some of the incredible sights around Sapa at your own pace.
Getting lost on a Motorbike, exploring the beautiful countryside is just one of the many fun things to do in Sapa. Drive to the beautiful Thac Bac Waterfall, around 15kms outside Sapa main town. A legend says if you look at the falls long enough, you will see a white dragon peering down into the valley below.
Get off the beaten track while backpacking Vietnam and take a day trip out of Sapa town and visit the incredible Ban Pho Village. One of the friendliest tribes in South East Asia, it stands out among others due to the Mongolian Ban Ha population here. Settled on a Mountainous Cliff side these guys literally live life on the edge. Come and explore the culture, talk to the villagers and try not to get too drunk off the legendary corn wine they will insist you taste. Multiple times.
If motorbikes aren't your thing, you can still make an awesome tour of Sapa Valley by bicycle. If you go with a company all of your food and extra transportation (not on a bicycle) is covered, but it is easy enough to organize yourself.
There are some truly awesome treks around Sapa and you could spend a few days here exploring. For the more adventurous, why not conquer Vietnams highest peak, Fansipan. Not quite Everest but standing at 3,143m it's pretty impressive; it is possible to do in a day but most will recommend at least 2 days. You can do this hike solo or with trekking companies in the area.
If you fancy heading off on some even more adventure-fuelled forays, consider treks around Ha Giang or better yet, motorbiking the Ha Giang Loop.
Backpacking Halong Bay & Cat Ba Island
A UNESCO world heritage sight, often known as the Eighth Wonder of the world, is an unmissable stop whilst backpacking Vietnam. Almost everyone who visits Halong Bay does it as part of a pre-arranged package. I'm not normally one for taking the tour option but it is pretty impossible otherwise. The tour's not too expensive and it was totally worth it. We had a great time and were surrounded by some awesome people. It's essential to prebook your trip to Halong Bay; we booked a two day, two night tour from our stay at the Central Hanoi Backpackers Hostel. Check out my buddy Bradley's post for everything you need to know about picking a decent Halong Bay cruise for backpackers. 
Whilst exploring Halong Bay we stayed on A cool 'Junk Boat' one night and in beach huts the other. Being part of a prepackaged tour meant all our food, transport and everything else was included, making it a hassle free adventure.
Once the tour is over you can either stay on Cat Ba island and check out the rock climbing scene or head back to Hanoi for a night before travelling South.
Book Your Cat Ba Island Hostel Here!
Backpacking Hue
This is a beautiful small town offering a great break in the journey from Hanoi to Hoi An. Check into the Hue Family Boutique Hotel and meet the family for local recommendations. One of Vietnams most royal cities, Hue is littered with impressive historic sights, delighting the inner nerd in us all!
Check out the impressive Citadel on the other side of the perfume river. This impressive piece of history is made up of four separate citadel's and will take a full day to explore, you can hire a bike to get around! There is a ton of things to do in Hue and you could easily spend weeks here.
Check out the Thien Mu Pagoda; standing at 21 metres high and decorated with mind-blowing architecture this pagoda is a pretty spectacular eyeful. 
If rest and relaxation are what you are after the beaches of Lang Co and the mineral hot pools of Phong An are just a short distance away.
For awesome ideas on where to stay check out my insider's post on the 10 best hostels in Hue.
Hoi An is THE place to get tailor made clothes whilst backpacking Vietnam. There are loads of things to do in Hoi An but most backpackers come here to get a suit made. Clothes tend to take at least three days to make so you want to get measured as soon as possible… So first stop? Find a tailor! I recommend Mr XE II – possibly the best tailor in Hoi An!
Check into Paddy's Hostel. Dorms start from $7 USD a night, and it has an awesome pool! Spend a few days exploring the local area by bicycle. The hostel provides them for free. It's located close to the beach which is great on hot days, as you don't have to go far!
Looking to get back into the city? Da Nang is a great day trip, only a forty minute drive from Hue; the sandy beaches, caves and buddhist shrines among many other activities make for the perfect day out.
Check out my ultimate guide to the best hostels in Hoi An here as well as neighborhood breakdown, here.
Backpacking Nha Trang
Nha Trang is a perfect place to let loose, get a bit wild and have some fun on the water. A popular water sports area with the likes of windsurfing, paragliding and jet skiing on offer; there's enough adrenaline here to keep even the most adventurous happy. No need to prebook, all can be arranged from the beach.
The best places to stay are in the side alleys and not on the main road. Check into the iHome Hostel for as little as $7 a night they'll offer free beers in the evening and free breakfast to fix you up in the morning.
If you need to get a job or just want to have an awesome night out head to the Why Not Bar, they are often hiring. The work is easy and fun, it's a great way to replenish funds while travelling Vietnam. I was on a five dollars a day plus two meals and unlimited booze deal… I was totally wrecked for a week or two, not my proudest accomplishment. The beach at night is a great place to hang out with other backpackers and get royally pissed however it, can be dangerous and a few backpackers have been robbed there so avoid ending up there alone.
While enjoying the nightlife be aware of the many hookers strolling the street at night. They will try to pickpocket you by grabbing at your crotch with one hand and slipping the other into your pockets… Keep your hands in your pockets, no matter what.
Book Your Nha Trang Hostel Here!
Backpacking Lak Lake
Recover from the heavy nights in Nha Trang and break up the journey to Dalat by venturing out to the tranquil and beautiful Lak Lake, the largest natural body of water in central Vietnam. Paddle out in a kayak and enjoy the still waters, beautiful scenery and explore the Jun Village; A Mnong settlement of wooden stilted houses.
Backpacking Mui Ne
From Nha Trang you can head to Mui Ne and check out the awesome sand dunes or you can hire a motorbike from Easy Rider for roughly thirty dollars and ride up the mountain paths to Dalat. There isn't much other than the sand dunes, beach & fairy stream in Mui Ne (although you can ride an ostrich!).
Backpacking Dalat
There is not a whole lot to do in Dalat but the ride itself is very scenic. I managed to crash and hurt myself quite badly because the roads are difficult, and if you have limited riding experience I suggest you hire a driver and just go on the back of the bike. Most backpackers do this rather than riding themselves.
Not sure where to stay? Check out my amazing guide to the 10 best hostels in Dalat!
Backpacking Saigon/Ho Chi Minh
The starting point for most backpackers travelling Vietnam, Ho Chi Minh City, formerly known as Saigon, is a crazy bustling city. Expensive for us broke backpackers in comparison to the rest of the country, I recommend venturing into the 'real' Vietnam pronto.
Many of the 'must see' sights around Ho Chi Minh are related to the terrors of the Vietnam War. The War Remnants Museum is a haunting insight into the life of those fighting on the front line during the period of 1954 – 1975. It costs around $1 to enter.
Take a trip out of the city and tour the incredible network of Cu Chi Tunnels. Brave claustrophobia and crawl around the safer sections of the restored tunnels, popping (or squeezing) out at the other end. You can pre book half day tours of the tunnels through the Hide Out Hostel travel desk.
Like Vietnamese cuisine? Consider taking a farm-to-table cooking class in Ho Chi Minh.
Check out this post for more things to do in Saigon. 
From Saigon, it is easy to arrange a bus onwards to Phnom Penh in Cambodia. You get your Cambodian visa for a fee on the border.
You can also visit the original site for more details: https://www.thebrokebackpacker.com/vietnam-backpacking/